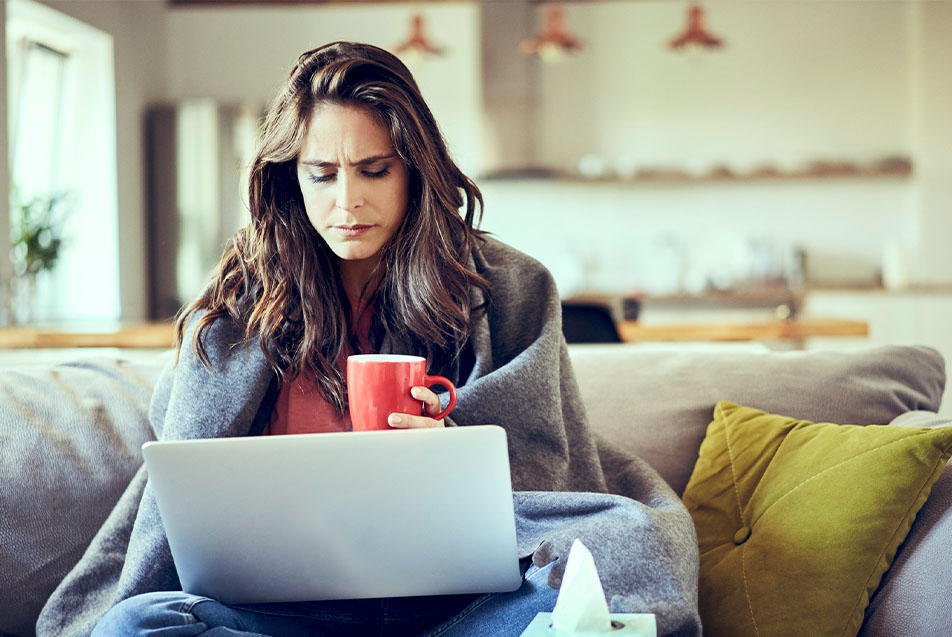 The Centers for Disease Control & Prevention (CDC) estimates that the flu has resulted in between 9.3 million and 49 million illnesses each year in the United States since 2010. The flu, or influenza, is a highly contagious respiratory illness caused by the influenza virus. Symptoms usually range from mild to severe, but the most common include a high fever, overwhelming fatigue, muscle aches, runny nose, coughing, headache and sore throat. Influenza is a serious illness that has the potential of progressing quickly and becoming life-threatening. Experts advise the best prevention against the flu is frequent handwashing, disinfecting surfaces, avoiding crowds when possible and getting your flu shot.
While prevention is best, what happens if you contract the flu? Where should you seek treatment? Is a primary care provider, walk-in clinic or a trip to the emergency department the best option? It can be difficult to recognize the best way to access the most appropriate care, but with the help of Rebecca Case, MD, First Care Walk-In Clinic and Stacie Housholder, FNP-C, RN, MSN, Parkview Virtual Health, you can feel confident in your decision when you or a loved one are in need of care.
Parkview OnDemand
Parkview OnDemand is concierge telehealth and one of the easiest ways to receive immediate medical consultation. The service lets you speak with a provider anytime, anywhere through video or mobile app visits. When you're feeling under the weather, Parkview OnDemand is a quick, convenient care solution with 24/7 access to a provider through your computer or smartphone. Providers are available around the clock to diagnose, treat and follow up with each patient regarding many common, non-emergent adult or pediatric issues. When needed, the service also has the capability to submit prescriptions directly to the pharmacy of your choice.
Parkview OnDemand is beneficial because it allows patients to avoid the long wait times sometimes seen at primary care offices and walk-in clinics, allowing those patients needing more emergent care to be seen first. This unique service also prevents the spread of influenza to our providers and other patients in waiting areas. However, if the Parkview OnDemand provider feels your symptoms warrant further evaluation they will refer you to an in-person visit with your primary care provider, walk-in clinic, or the emergency department as the last choice.
Walk-In Clinic
Parkview First Care Walk-In Clinic is the right choice for anyone needing more emergent care than a telehealth service can provide. At the walk-in clinic, providers are experienced family and internal medicine physicians, physician assistants and nurse practitioners who treat minor, non-life-threatening conditions and injuries in patients of all ages. You're encouraged to choose a walk-in clinic when what you're experiencing is something you would normally address with your primary care provider. If you do choose the walk-in clinic and you're experiencing influenza-like symptoms, Dr. Case offers more information regarding treatment options and what you can expect.
What options does a patient have at the onset of influenza?
If you are within 48 hours of your initial symptoms, it would be wise to consider an antiviral medicine like Tamiflu. Tamiflu is a prescription antiviral medication that can be used to treat and prevent influenza A and B in people two weeks of age or older. The medicine works by targeting viral influenza cells and prevents them from replicating, allowing the body to recover from the viral infection at a faster rate. A provider may prescribe 5 days of Tamiflu if you are within the 48-hour symptom window. If you're experiencing symptoms beyond the initial 48-hours or onset of the illness, then antivirals won't be beneficial. Instead, your provider might suggest other helpful medicines including Tylenol for fever or pain, Theraflu® or Alka-Seltzer Plus products, both of which are over-the-counter medicines, but not recommended for those with hypertension or thyroid disease. You could also consider Robitussin® DM and Cepacol® lozenges for your cough or sore throat. In addition, and the most important, getting plenty of rest and pushing clear liquids to stay hydrated. It's also wise to refrain from alcohol, caffeine or carbonated beverages while you're ill.
When should patients consider utilizing the walk-in clinic instead of the emergency department (ED) if they have influenza?
If a patient is experiencing any of the following symptoms they should go to the ED immediately for evaluation and treatment:
Unable to keep fever under 102 degrees F with Tylenol every 6 hours
Confused, groggy, nonresponsive or in an altered level of consciousness
Experiencing shortness of breath when resting or during minimal exertion
However, if you think you have influenza and none of the above symptoms are present, and you wish to be seen, then the Parkview First Care Walk-In Clinic would be an excellent option.
Emergency Department
A visit to the Emergency Department is most appropriate for anyone experiencing symptoms or conditions that may cause lasting harm or loss of life. It's important to seek emergency care for the following conditions:
Poisoning
Severe head injury
Excessive bleeding
Loss of consciousness
Trouble breathing
Chest pains
Convulsions
Loss of balance or fainting
Difficulty speaking
Changes in mental state
Suicidal thoughts
Sudden weakness or paralysis
Serious burns
Broken bones

Deep cuts
Remember, when a life-threatening emergency occurs, always call 911 right away. If the emergency is not life-threatening, have someone take you to the nearest hospital emergency department so you can receive medical attention as soon as possible.