With the help of little Siena, Jackie Gill, RN, Labor and Delivery, Parkview Regional Medical Center, demonstrates the safe way to place your newborn in a baby carrier for hands-free bonding.
Proper fit
First, parents need to make sure the carrier is properly fitted to their body.
Put the hip strap around your waist. Enlist the help of your partner to tighten things. Make sure the hip strap is nice and tight. You want it to fit right on the hips because that's where all of the weight is going to go.
Pull shoulder straps up into place and make sure you can reach and attach the top rear clasp yourself.
Pull straps to tighten shoulder straps, if needed.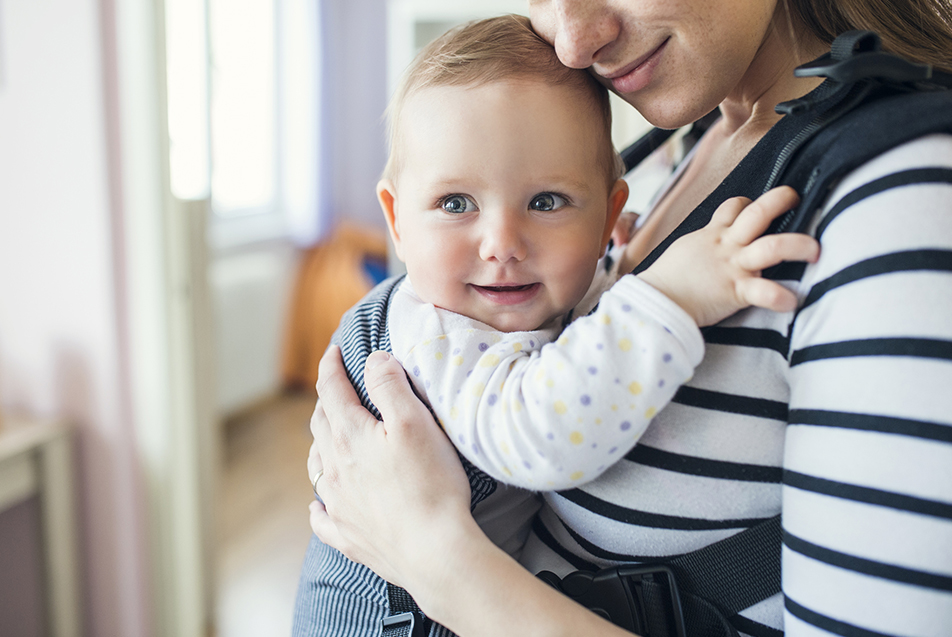 For a newborn
Put one arm in and adjust the baby, as needed.
You might need a newborn insert. New babies don't have a lot of head control, and you want to be sure their neck is toward the top of the carrier. To gauge placement, the carrier should be at the nape of the baby's neck. You want to be able to kiss the baby's head.
Make sure that the baby's arms and legs are tucked into the carrier and that their back is fully supported.
Fit two fingers around baby's face to make sure he/she has enough space.
3 months and older
After three months, the baby has more head control.
Make sure their legs make an "M" shape.
Their bottom should be flush to mom's belly button.
Make sure the fabric of the carrier is at the nape of the baby's neck. You want to be able to kiss the baby's head.
The little one's arms can be in or out, depending on what the baby likes.
When the baby can sit up unassisted, you can move them to your back, if desired.