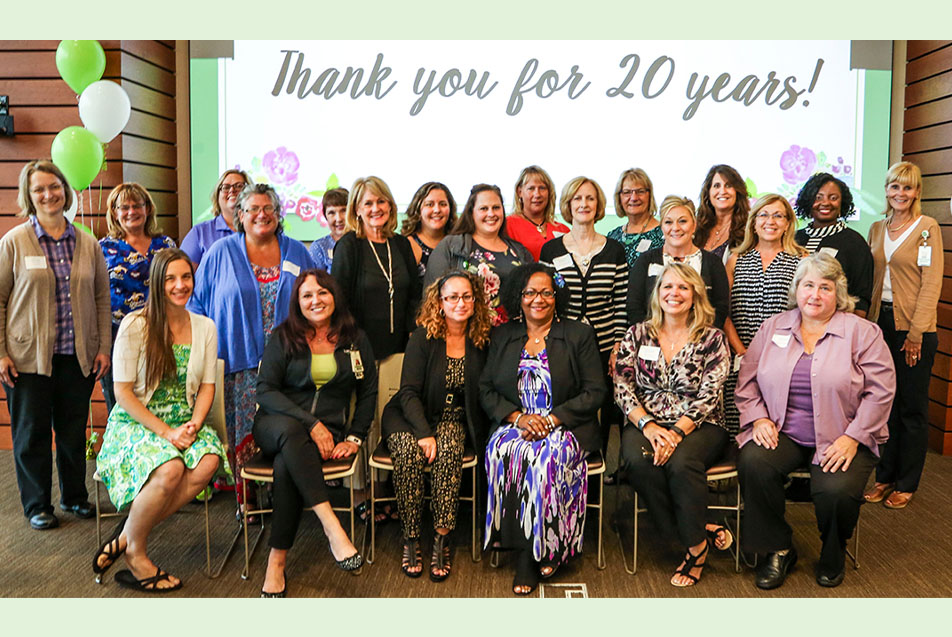 In early 1997, the board and leadership of Parkview Health became involved in a discussion about how to more effectively and efficiently meet the increasingly diverse health needs of our community in an effort to improve the overall health of the population. This discussion lead to the development and implementation of our Integrated Community Nursing Program* as a way to more directly address community health issues, provide outreach, and serve those populations within our community that are otherwise underserved by the traditional healthcare system.
The first challenge addressed by the Integrated Community Nursing Program and our community partners was the serious shortage of nurses in our most impoverished school district. This shortage was identified as having the potential for a widespread, negative impact on the health of the children. Through the Integrated Community Nursing Program, Parkview provided two nurses to support four area schools with clinic services, screenings, and health education. Within six months, the program had proven so successful it was expanded to six nurses for nine schools.
Today, Parkview's award-winning Integrated Community Nursing Program employs a staff of 15 registered nurses, including one diabetes specialty nurse, an asthma specialty nurse, a dietician, and a registered respiratory therapist to address identified health needs of children and families. Programming has expanded well beyond the original school nurse initiative to include: community and school-based diabetes education and management programs; asthma education and management programs, including the Asthma ER Call Back management program aimed at reducing the use of the ER for asthma-related visits; FluMist program; Vision Screening program; Helmet Safety program, Safe Slumber Program, Presumptive Eligibility program (for enrolling pregnant women in Medicaid), the Medication Assistance Program, free health screenings, and health education programs and initiatives focusing on nutrition, exercise, and maintaining a healthy lifestyle.
Last week, the team gathered to celebrate the program's 20-year milestone and reflect on just how far they've come. Their efforts are a true vehicle for change and healthy advancements in the community. Here's to 20 more years!
What people are saying about Community Nursing …
Jill Ostrem, former Senior Vice President, Community Nursing
"I wanted to send along my very best wishes to the whole Community Nursing team as you celebrate the wonderful work the department has done over the past many years.
I think of you all often and regularly see things that remind me of the impact community nurses have on the community each and every day.
While my time with you all was just a few short years, I loved every minute of it and can reflect on many fun memories — matching shirts on health fair days, the incredible impact of safe sleep and breastfeeding classes, the hundreds of children who benefited from vision and hearing screenings through the schools and so many kids and families who are 'Breathing Right'. Also lots of good food, celebrations and pictures.
So, I am sending along my very best wishes to you all. I know you will continue to make a difference for the people of Parkview and northeast Indiana and that warms my heart."
Judy Nix,RN, Community Nursing
"Parkview involvement truly raised the bar in regards to the quality of care given to the students and community, whether or not a Parkview nurse was in the school. We increased nurse-to-student ratio, helped develop electronic charting, epi and albuterol protocols, access to Parkview labs, specialty nurses for asthma, diabetes management and numerous other programs, such as vision screening with a more accurate auto refractor. One of our original school nurses became the school district's Health Specialist and continues to foster a special relationship between Parkview and the school district."
Debi Kennedy, assistant, Parkview Center for Healthy Living
"I have worked with this wonderful group of women in one capacity or another for the past 12 years. Many of them were very instrumental in getting the Francine's Friends Mobile Mammography Coach to their schools. As school nurses, they knew the importance of early detection and because of that, many breast cancers were found in early stages – easily saving lives!
Through health fairs, working side by side, they have served our community in countless ways, spending time to talk to each patient about their glucose level or concern over a high blood pressure.
Each brings to the table their own unique qualities and love for community that is rarely found in a group their size. It has been my pleasure and my honor to work with such a group of great women."
*Funding for the program is provided through Parkview's Community Health Improvement Program (which is supported through allocations from each of the five hospitals in the Parkview System), as well as with funds raised through Parkview Foundations.