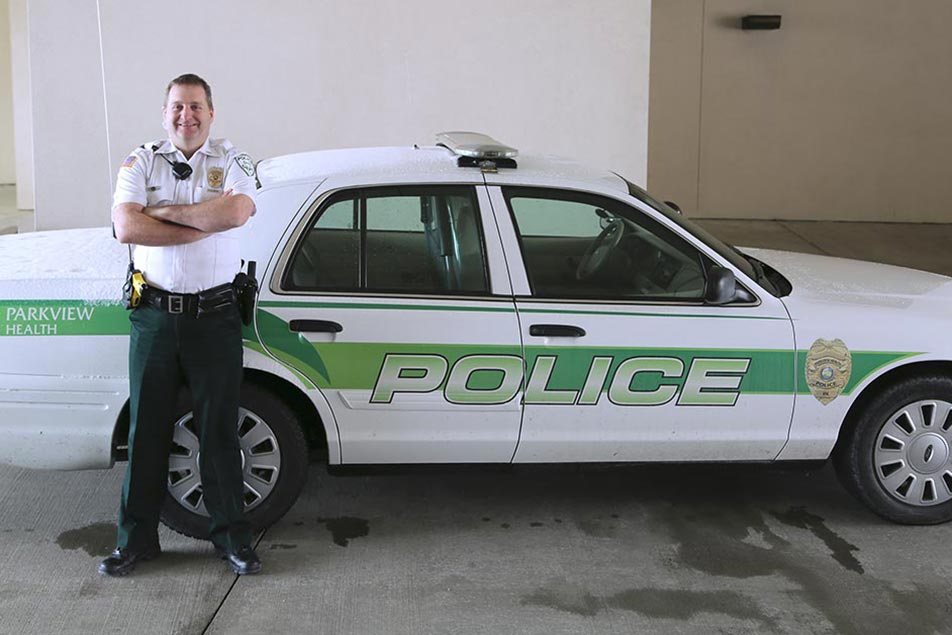 In 2014 the first class of officers were sworn in to the Parkview Health Police Department, the first of its kind in the state. As part of that trailblazing group, Shannon Berry signed up for a career he has found both rewarding and humbling.
Guided by an emphasis on service and empathy, Shannon is one of the truly inspiring, gentle and devoted People of Parkview.
Name: Shannon Berry
Title: Parkview Regional Medical Center Public Safety Site Supervisor/Police Lieutenant
Did you always know you wanted to be a police officer?
Yes, I always knew I wanted to be in law enforcement. As a child, I wanted to be a conservation officer because I love nature, but the river of life brought me to Parkview.
What was the journey to your career like?
I graduated from Blackhawk Christian High School in 1988, served in the United States Army as a mortar man from 1991-1994 and joined the Parkview Health team in 1996. I completed the Indiana Law Enforcement Academy in December 2014 and began serving as a Police Lieutenant for the Parkview Health Police Department at the Parkview Regional Medical Center that year.
What's a day as a Parkview police officer like?
I supervise more than 32 public safety/police officers at Parkview Regional Medical Center, Parkview Distribution Center and the Parkview Corporate Office. I strive to provide excellent care to every person every day and enforce the law as needed.
Why do you do what you do?
It is my passion to serve people.
Why is it an exciting time to be a part of the Parkview team?
Because of the growth that I have seen in the last 20 years. In 1996, it was just Parkview Randallia. It has been exciting to watch Parkview Health grow.
What's one of the challenges of your job?
Watching patients who have made bad choices using drugs and alcohol in their lives struggle with the raw consequences and treatment.
What is one of the greatest rewards of your job?
Being at the hospital to experience the peaks and valleys in people's lives. I am aware that, daily, I possibly had a part helping them out of a valley by providing them a good experience. Working in a healthcare environment keeps a person thankful and humble.
What most excites you about the future of your career?
Watching how the Parkview Police Department is spearheading our profession in healthcare, the professional image that we are creating at our facilities, and the experienced police officers we are attracting from the surrounding communities.
What would you want people to know about our police officers?
The Parkview Health Police Department is full of officers who are passionate about serving their local communities. A great deal of them also serve the surrounding communities in other ways, too. We have officers who are volunteer firemen, police reserves, military reserves, corrections, EMTs, youth sports coaches and in the ministry. Their service does not stop at Parkview.
What qualities do you think make a great officer?
The ability to put yourself in the visitor's/patient's shoes. First, imagine walking a mile in the person's circumstances. Then, provide the excellent care that you would expect if you were in their position.
What's something people would be surprised to know about you?
I come from a family of 8 siblings.
What is the best piece of safety advice you could give people?
Stay aware and be observant of your surroundings.
What is your favorite thing to do outside of work?
Spend time with my kids (17, 15, 13) and attend their events.
If you could tell people to read one book in their lifetime, which would it be?
The Bible. It's the greatest non-fiction book in history and has all the drama a reader would expect – love, war, passion, murder, suspense and mystery – to mention a few.
What would we find on your bucket list and what do you plan to check off next?
Hiking the Appalachian Trail, bicycling the Great Divide bicycle route and becoming an entrepreneur. I plan to check off the latter next. My wife and are currently in the start-up phase of opening a kid's sensory play gym named We Rock the Spectrum. The gym will be for all kids and specialize in serving children with autism and sensory disorders. Our inspiration comes from my 13-year-old daughter who is severely autistic and nonverbal. We want to become a resource for other families and help them through their special needs journeys.
How can patients/visitors/employees get in touch with an officer if they need assistance?
Public Safety is located in the PRMC Emergency Room lobby. Anyone can dial 266-1800 for general information and help, or 1-911 from a campus phone to connect to the Parkview emergency line. Staff also have access to panic buttons on the floors which they can utilize for immediate public safety assistance.