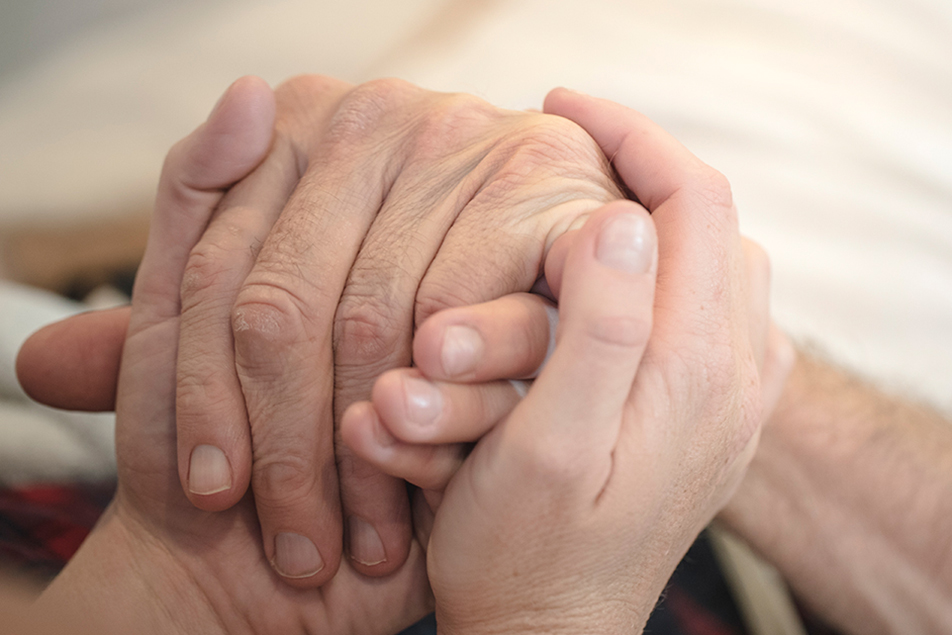 Today marks the 19th annual Festival of Trees coordinated by the Parkview LaGrange and Parkview Noble Foundations. All proceeds from this beautiful event benefit Parkview Hospice, LaGrange and Noble County branches.
But what does Hospice do exactly? Parkview Home Health and Hospice provides wrap-around services for patients who are terminally ill and have decided to allow their illness to take its course. The focus of hospice treatment is on managing the patient's symptoms and providing emotional support to the patient and their family and caregivers. The goal is to make it possible for the patient to live the remainder of his or her life as fully as possible and in the place of their choosing.
We asked two families to share their stories to offer some insight as to how these services can impact a loved one's final days.
LIZ
For Elizabeth (Liz) and Virgil Hershberger and their family, having the continuum of resources available – from inpatient hospice care to having access to all the services and equipment needed at home – was especially important.
Liz had been diagnosed with non-Hodgkin's lymphoma in the spring of 2007 and referred to an oncologist in South Bend. Several rounds of chemo and other treatments over the next several years, including taking part in a clinical trial at a hospital in Mexico, had resulted in periods of remission followed by the return of the disease. In the late summer of 2010, however, treatment was having little effect and hospice was called in. The focus of care was on pain management. As the fall progressed, Liz appeared to rally to the point that she was able to attend a family wedding in Arkansas in November and even took a family vacation to Mexico over Christmas. Prior to each trip she and her husband, Virgil, met with the hospice staff from South Bend and arranged for the pain medications she would need while away.
In January 2011, one of Liz's cousins passed away in Pennsylvania. Although tired from the holiday trip, Liz wanted to be able to attend the funeral. Her daughter offered to make the trip with her.
"Looking back," said Liz's husband, Virgil Hershberger, "I think she wanted to be able to say good-bye to her parents and girlhood home and was hiding her pain from us. As they were driving home, my daughter called me to say her mom was having seizures. We contacted the hospice who recommended going to the nearest hospital. At that point they were at the Ohio/Indiana border, about a half hour from Parkview LaGrange Hospital, and we decided to bring her there since it was close to home.
"I brought all Liz's records and met them at the emergency room. I could see my wife was in a lot of pain. The doctor in the emergency room sent her for a chest x-ray and paged through the records. I recall the doctor talking with me and asking me what we wanted to do. I shared with her that the intensity of Liz's pain and the seizures she was having were new symptoms. I asked the doctor if it was possible to determine if further treatment would enable Liz to return to the quality of life she'd had during the past couple of months.
"Testing during the first couple of days in the hospital showed the cancer had spread into Liz's bones and that the pain and seizures were part of the continuation of her disease. Parkview Home Health and Hospice was contacted and they worked with us to help follow Liz's end of life wishes. She was transferred to a hospice bed at Parkview LaGrange to help stabilize her and manage her pain.
"We noticed that Liz was best able to recognize and talk with us just before she was due for her next pain medications. One of our sons was out of the country on a mission trip and was flying in to be able to see his mom. We knew what time he was likely to reach the hospital, so I asked the staff if there was any way they could modify the schedule for Liz's pain medicine so she would be clear when he arrived. They were able to do that and Liz was able to see and talk with our son."
"After several days in the hospital, Liz's pain and seizures had been stabilized and she was able to come home," Hershberger continued. "We had a hospital bed in the living room with all the needed equipment for managing her pain and making her comfortable. The hospice nurse and a caregiver made daily visits and they encouraged us to call them at any time with any question or concern.
"Liz was with us at home for about a week before she passed away with family around her. For me, the hospice staff were angels. Their care and level of concern were well beyond what you would expect."
DON
"I've thought about this a lot and the best decision I made was to call in Hospice," commented Katherine Bilbee of Cree Lake in speaking about the recent death of her husband Don Bilbee. "The nurses and staff did so much for Don and for all of our family."
Don Bilbee passed away at Parkview Noble Hospital on Oct. 2, 2016 following nearly 15 years of living with Parkinson's disease. He also had been steadily declining the past several years. Five years ago, Don and Katherine's daughter Nancy passed away from a cancerous brain tumor. "That took a lot out of him," added Jennifer Schneider, of Kendallville, Don and Katherine's other daughter.
About a year after that, Don had a bad fall and ended up in a nursing home to recover from complications from the fall. He was able to eventually come back home but had lost a lot of his mobility. At that time Don's doctor suggested calling in Hospice but Katherine said, "I wouldn't even consider it then."
Two and a half years ago, Don fell again at home and hit his head resulting in a brain bleed. He was admitted to Parkview Noble Hospital and stayed there for several days. When he was released, Home Health was called in to assist with his care at home. At one point, a nurse from Home Health suggested Katherine consider calling in Parkview Hospice and this time she was ready to listen.
When Hospice came in, Katherine said, "They lifted such a weight from my shoulders. Even in the middle of the night, I'd call and they would come. Even when he was in the hospital and we knew he was dying, they were there and one of them stopped by just to see how we were doing." Don's main Hospice nurse was Linda Yoder, RN, and he saw her twice a week, unless they needed to call her more frequently. "Linda was wonderful," added Katherine.
In addition to providing Don's medications and other supplies to help him stay comfortably in his own home, Hospice offered, massage therapy services which Don utilized. "He would always ask Hanna Eaken, the massage therapist to save a little time for me," said Katherine. So after she was done working with Don, she would rub Katherine's hands. "Hanna also showed me how to rub his arms and legs when they would be hurting him," Katherine explained. "That was so nice that when he was hurting, I could rub them and ease his discomfort."
The fact that Hospice was in place also gave Jennifer comfort knowing her Mom could get out of the house a couple times a week when Hospice volunteers would come sit with her Dad. "He loved it," Jennifer added. "He loved the caseworker Sarah Downs, he loved the company and thought they were coming just to visit him. He loved chocolate and they brought him sweets so of course he loved that too."
Don's final days began around the end of September when he was very confused and Katherine was unable to take care of him. She took him back to Parkview Noble. On Saturday, Oct. 1, while he was in the hospital, he grabbed his chest. Don was having a heart attack. He was kept comfortable until he passed away on Sunday.
Hospice nurse, Rosella Kiser, RN, who was on call that weekend, was right there with him in the hospital and made sure he was comfortable and kept the family informed. "Dr. (Ron) Sloan was Dad's doctor and he was amazing too. He loved my dad and he came and sat with us for a while on Saturday," Jennifer added.
Don Bilbee was well known in the community. He was a man of faith who loved his family dearly. In addition to Katherine with whom he celebrated 57 years of marriage, he was father to Nancy and Jennifer, as well as his son Mike who also lives in Kendallville. Five grandchildren; eight great-grandsons and one great-granddaughter all loved to spend time with him.
One of the easiest decisions Katherine said she had to make when Don died was for the memorials at his funeral to go to Parkview Hospice. "I volunteered for Festival of Trees many years by decorating trees. I was familiar with the event and knew it benefitted Parkview Hospice. We just thought having the memorials go to Hospice was our small way of saying thank you for the wonderful care they all provided," Katherine stated.
Any patient whose medical condition is expected to be terminal within six months and who is not actively seeking further treatment may benefit from hospice services. Patients with life-limiting cancer, lung, heart or kidney disease, or Alzheimer's disease may also be candidates for hospice care. For additional information about Parkview Home Health and Hospice, or to make a referral, call 800-292-9894.