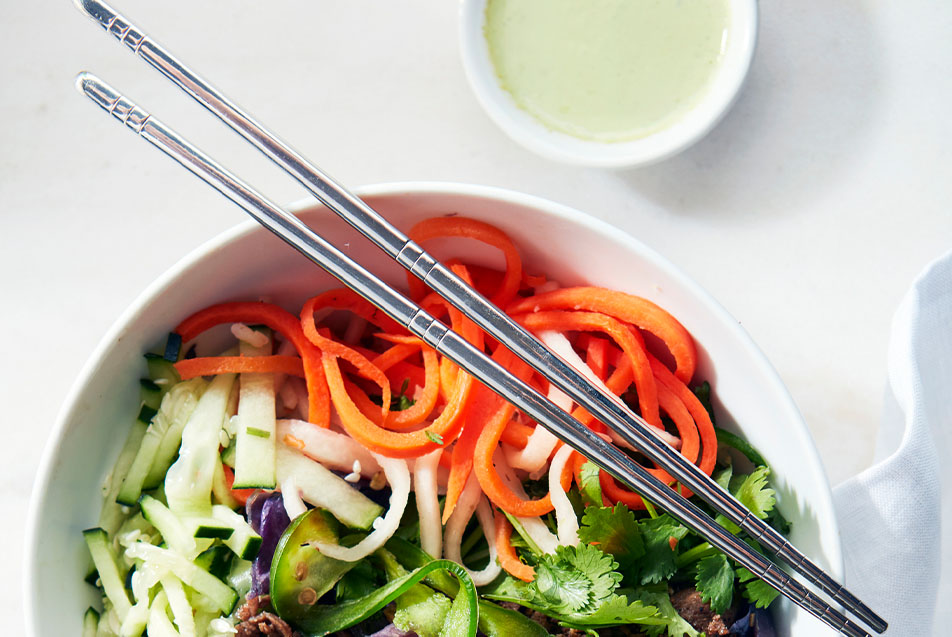 World Heart Day is September 29, and we're marking the occasion by sharing healthy, heart-friendly recipes all week long. Sarah Mohrman, RDN, LD, MA, dietitian, program coordinator, PPG – Cardiology, has a tangy, warming BBQ bowl that your whole family is sure to love.
South Korean BBQ Bowl
¼ cup low sodium vegetable broth
2 teaspoons minced garlic
8 ounces shitake mushrooms, sliced
2 cups carrots, shredded
1 yellow bell pepper, chopped
1 small red onion, chopped
2 small zucchini, sliced
1 cup spinach or kale
1 cup edamame
4 cups brown rice
Korean BBQ Sauce
2 teaspoons low sodium soy sauce or coconut aminos
2 teaspoons sriracha
2 teaspoons sesame oil
2 teaspoons fresh ginger, minced
2 teaspoons honey
1 ½ tablespoons garlic, minced
2 teaspoons ground black pepper
Toppings
2 teaspoons sesame seeds
6 green onions, sliced
1. Heat a skillet over medium-high heat. Pour about 3 tablespoons of broth into the skillet. Add garlic, sauté for 1 minute. Add mushrooms, carrots, yellow pepper, onion and zucchini and sauté for 4 minutes. (Continue to add small amount of broth or water as needed to prevent sticking to pan).
2. Add spinach or kale to pan and cook until leaves start to wilt. Remove vegetables from the heat and allow to cool to room temperature.
3. While vegetables are cooling, prepare brown rice.
4. Measure and combine all of the Sauce ingredients in a separate bowl and mix well.
5. Assemble bowls over 4 servings – rice, vegetables, sauce and sprinkle with sesame seeds and green onions.
Serves 4
Nutrition per serving (4 servings/recipe): 371 Calories; 6g total fat; 1g saturated fat; 1mg cholesterol; 214mg sodium; 70g carbohydrates; 10g fiber; 13g protein