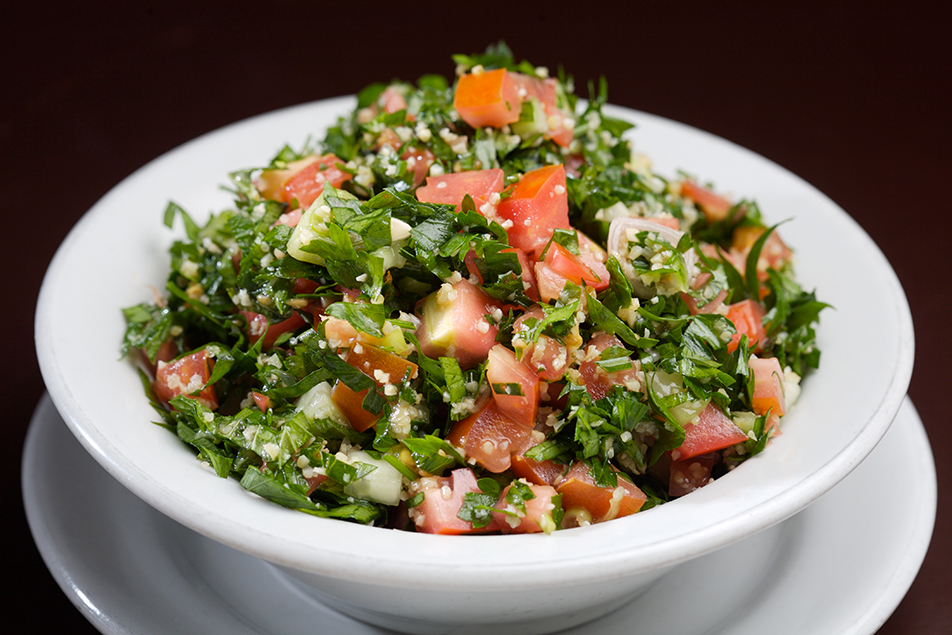 World Heart Day is September 29, and we're marking the occasion by sharing healthy, heart-friendly recipes all week long. First up, a bountiful bowl from Hannah Bercot, RDN, PPG – Cardiology.
Middle East Persian Tabbouleh Bowl
1 cup bulger
2 cups water
1 16-ounce can fava beans, drained and rinsed
Juice of 3 lemons, divided
3 tablespoons minced garlic
2 bunches flat leaf parsley, finely chopped
2 tablespoons fresh mint, finely chopped
2 small Roma tomatoes, diced
1 cup Persian or English cucumber, diced
4 scallions, sliced
1 tablespoon extra-virgin olive oil
½ teaspoon sea salt
¼ teaspoon cumin
¼ teaspoon paprika
1/3 cup tahini
6-8 tablespoons cold water
1.Combine the bulger and water in a 6-quart pot and bring to a boil. Reduce to a simmer and cook for 10-12 minutes. Stir in the fava beans and cook an additional 1-2 minutes; cover and remove from heat.
2.In a small bowl, combine the juice of 1 lemon with the minced garlic. Set aside.
3.Transfer bulger and fava beans into a dish. Add parsley, mint, tomato, cucumber, juice of 2 remaining lemons, and olive oil. Cover and refrigerate.
4.To the lemon and garlic mixture, add salt, cumin, paprika, and tahini and whisk to blend. Slowly whisk in cold water, 1-2 tablespoons at a time until smooth and creamy.
Makes 4 bowls, serve cold with tahini sauce and scallions.
Nutrition information: Servings: 4; Calories: 360; Fat: 11g; Saturated Fat: 2g; Cholesterol: 0mg; Carbs: 47g; Fiber: 11g; Protein: 16g; Sodium: 315mg