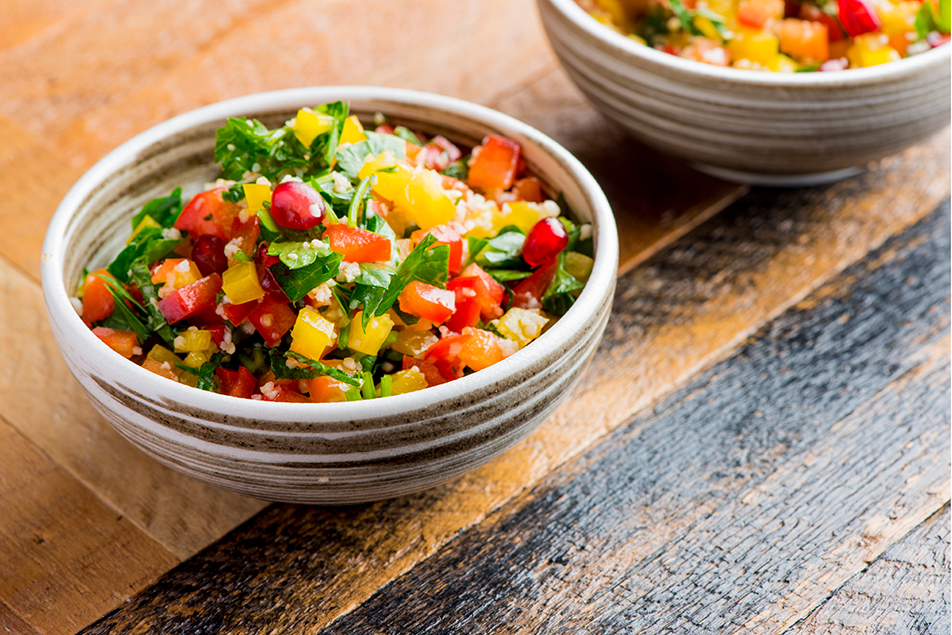 World Heart Day is September 29, and we're marking the occasion by sharing healthy, heart-friendly recipes all week long. Anne Dietz, RDN, LD, dietitian, PPG – Cardiology, takes us south of the border with a fajita buddha bowl packed with flavor and nutrients.
Mexican Buddha Bowl with Fajita Veg
Fajita Veg
2 bell peppers, thickly sliced
2 red onions, thickly sliced
2 teaspoons smoked paprika
1 teaspoon olive oil
Salt and pepper, to taste
Mushroom Taco Filling
1 tablespoon olive oil
8 ounces baby bella (cremini) mushrooms, quartered
1 cup finely chopped yellow onion
2 garlic cloves, minced
2 to 3 teaspoons adobo sauce (from a can of chipotle peppers), depending on desired level of spice
1 teaspoon chili powder
1 teaspoon smoked paprika
1/2 teaspoon ground cumin
1 cup cooked lentils (options: drained and rinsed canned lentils, steamed/vacuum-sealed lentils, or cooked from dry)
1/2 cup low sodium vegetable broth
Pico de Gallo*
1 ½ cups cherry tomatoes, quartered
½ red onion, finely diced
¼ cup cilantro, roughly chopped
Juice of 1 lime
Coriander and Lime Quinoa
2 cups cooked quinoa
¼ cup chopped cilantro
1 lime, juiced
Salt and pepper, to taste
Lettuce, to serve
Sliced avocado, to serve
1. Preheat the oven to 400°F.
2. Add the sliced peppers and onions to a large sheet pan or roasting dish with the smoked paprika, sprinkle with salt and pepper, and brush them with olive oil. Cook them in the oven for 20 minutes, until soft and just starting to char.
3. While the veggies roast, prepare the Mushroom Taco Filling. Heat oil in a large skillet over medium-high heat. Add mushrooms and onions; cook 6 to 8 minutes, stirring occasionally, until soft. Add garlic, adobo sauce, chili powder, smoked paprika, and cumin; cook 2 minutes, until aromatic.
4. Add lentils, vegetable broth, and soy sauce; stir to combine. Gently simmer for 5 to 6 minutes, stirring occasionally, until liquid is completely reduced. Remove from heat and adjust seasonings as needed.
5. Make the Pico de Gallo. Combine all ingredients together in a small bowl along with a large pinch of sea salt and black pepper. Cover and keep refrigerated until serving.
6. Stir the lime juice and chopped cilantro through the cooked quinoa, and season to taste with salt and pepper.
7. To assemble your bowls, fill the bottom with lettuce, then top with the quinoa, fajita veg, mushroom lentil taco filling and pico de gallo. Finish each bowl with sliced avocado.
Serving: 1 bowl; Calories: 375kcal; Total Fat: 13.5gm; Saturated Fat: 2gm; Cholesterol 0mg; Carbohydrates: 53g; Protein: 14g; Sodium: 317mg; Fiber: 14g; Sugar: 1