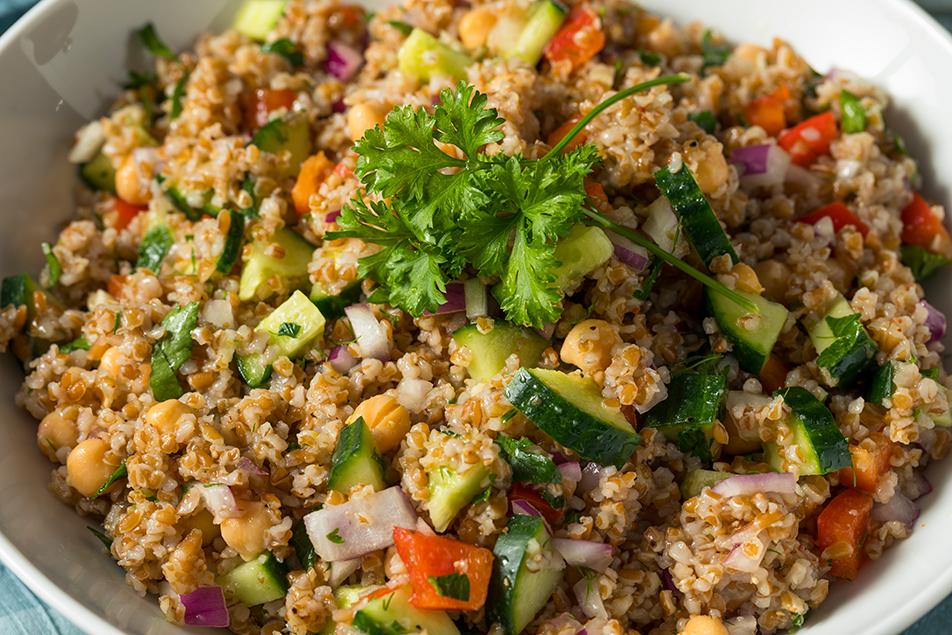 World Heart Day is the last week in September, and we're marking the occasion by sharing healthy, heart-friendly recipes all week long. Our final dish is a hearty bowl bursting with bulgur, hummus and salty feta, courtesy of Anne Dietz, RDN, LD, dietitian, PPG – Cardiology. Pile on the veggies for a complete, satisfying meal.
Mediterranean Bulgur Bowl
1 cup bulgur
1/2 teaspoon ground cumin
1/4 teaspoon salt
2 cups water
1 can (15 ounces) low sodium garbanzo beans or chickpeas, rinsed and drained
6 ounces fresh baby spinach (about 8 cups)
2 cups cherry tomatoes, halved
1 small red onion, halved and thinly sliced
1/2 cup crumbled low-fat feta cheese
1/4 cup hummus
2 tablespoons chopped fresh mint
2 tablespoons lemon juice
In a 6-quart stockpot, combine the first 4 ingredients; bring to a boil. Reduce heat; simmer, covered, until tender, 10-12 minutes. Stir in garbanzo beans, heat through.
Remove from heat; stir in spinach. Let stand, covered, until spinach is wilted, about 5 minutes. Stir in remaining ingredients. Serve warm or refrigerate and serve cold.
Serves 4
Nutrition Facts (2 cups): 277 calories; 7g fat (2g saturated fat); 8mg cholesterol; 451mg sodium; 42g carbohydrate (6g sugars, 12g fiber); 14g protein