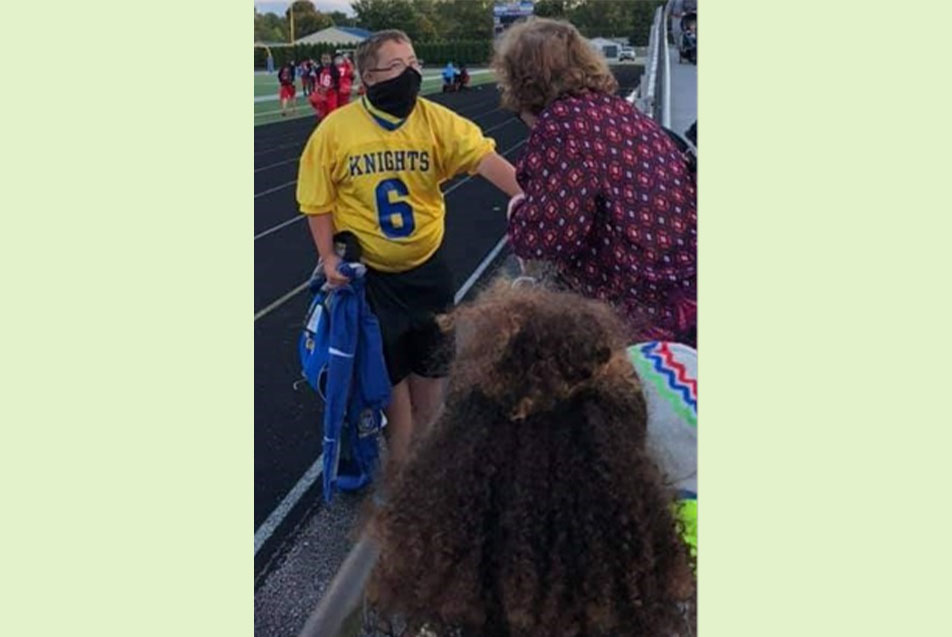 Building relationships with patients is important to all of us at Parkview – especially in pediatric practices where parents trust providers with their children's health – and it requires a special commitment. Recently, Rachel Clauson, the mother of a patient, shared her gratitude for the many ways a group of PPG providers have impacted her son.
Earlier this fall during an office visit, Joshua Clauson invited the staff at PPG – Pediatrics, Auburn, to come to one of his unified flag football games. Unified flag football enables students with and without disabilities to play on the same team to promote inclusion.
Knowing how important it was to Joshua, Courtney Stephenson, medical assistant, and Nikki Sturdivant, RN, clinical coordinator, surprised Joshua by attending. For days after, he talked about their visit.
The team then decided to surprise Joshua at another game. But this time, Lee Ann Pixley, MD, joined Courtney and Nikki.
Clinic manager Amy Millikan said that visit made his night. "When Joshua noticed the staff, his eyes lit up, especially when he saw Dr. Pixley. He was on cloud nine and so pumped that Dr. Pixley and her team had come to cheer him on."
After the game, Joshua rushed to the stands to ensure all of his teammates knew this was his doctor, his nurses and his friends from the office. Rachel said, "It's very exciting and meaningful that people want to take part in Joshua's life and show them they're proud of him."
It's that kind of support that makes Joshua look forward to going to Dr. Pixley's office – a place where he can fully be himself. He loves to act silly and tell the nurses jokes, or share the latest about his theatre and sports involvement. He even sings and dances in the exam room.
"He makes their day, just as much as the opposite," Rachel said. "They bring out the best in him. It's more like visiting with friends than going to a doctor."
Over the years, Joshua and Dr. Pixley have also developed a unique bond. "She treats him like no other individual," Rachel said. She covers everything he needs for his age – to the extent that Joshua sometimes asks his mother to leave the exam room, insisting, "I need to talk with my doctor." Rachel is thrilled they have that kind of rapport.
"In Dr. Pixley's office, it's not about being sick or having medical problems. It's about enjoying another day, being silly and talking about his life," she said. "And now this team has included themselves in Joshua's life outside the office. That's a very personal thing with our family and just amazing."
Moments like those shared at flag football are the "why" for these caregivers, Amy said. "They live to have those special moments and bring smiles to their patients' faces. I can attest that they do that with every patient."
Thank you, PPG – Pediatrics, Auburn, for your world-class care of Joshua and all of your young patients. Your clinical expertise combined with a highly personal and lighthearted approach make a big difference to all you serve.
Want to share your story?
We invite you to share your positive experience with Parkview any time by submitting the details online.