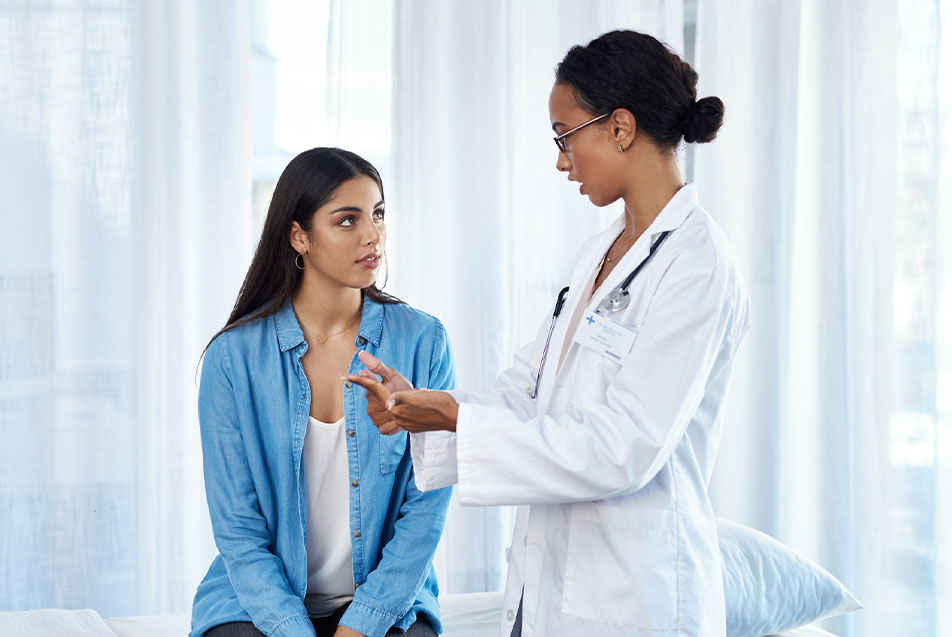 This post was written by Lauren Kopicky, DO, FACS FACOS, a fellowship-trained breast surgical oncologist, PPG – Oncology, Parkview Cancer Institute.
In this post, I will discuss what patients can expect during and after a breast biopsy or breast surgery.
Breast biopsy
A breast biopsy is recommended after an abnormality or change is noted on your breast imaging. The type of biopsy you will undergo depends on how the area of interest is best seen. Some lesions can be visualized by ultrasound, and others are only seen by mammogram, which tends to be the case for breast calcifications.
For an ultrasound guided biopsy, the staff will position you comfortably, in a way that allows direct access to the lesion, generally lying on your back or side. A radiologist will perform the biopsy. Local anesthetic will be injected to numb the area prior to beginning the biopsy. Depending on which biopsy device is used, there may be a sound associated with its deployment, such as a snap. The radiologist will guide you through the process. Generally, several biopsy samples are obtained to send to pathology. Once the samples are obtained, a metallic clip will be placed at the biopsy site for future reference. The clip becomes the target for removal, or for identification on any follow-up mammograms.
A stereotactic biopsy is performed when we cannot visualize the area of interest by ultrasound. This type of procedure requires compression with the mammography unit to facilitate the biopsy. Staff will position you in a way that allows visualization of the lesion. Some stereotactic biopsies are performed with you in a seated position, and others require you to lay on your stomach with your breast gently hanging through an opening. Because this type of biopsy requires you to stay still in compression, staff will be extra attentive to achieving a comfortable position for you prior to beginning.
The radiologist will numb the area first, then perform the biopsy procedure. A vacuum-assisted device is utilized to enable removal of several biopsy specimens through one insertion site. You may feel some pressure during the biopsy. If calcifications were the target lesion, an image will then be taken of the samples to ensure they were adequately sampled. A biopsy clip will then be placed for future reference.
Breast biopsy recovery
With either type of biopsy, discomfort may occur for a few days along with mild bruising and/or swelling. Wearing a snug, supportive bra will help to ease discomfort. Ice packs applied to the biopsy site help to reduce swelling for the first 48 hours. Discomfort is often well managed with over-the-counter pain medication, as needed. The radiology nurse navigator will call you 48 hours after the procedure to check in. Either the radiologist or your ordering provider will notify you of pathology results.
Lumpectomy or partial mastectomy
When a patient has a lumpectomy or partial mastectomy, it means that surgery is necessary to remove an area of concern, discomfort or a diagnosed cancer. A lumpectomy refers to the removal of breast tissue, and can often be thought of synonymously with a partial mastectomy, where we remove breast tissue with special attention to margins, or borders.
After you have met with a surgeon and surgery has been recommended, you might be referred to our preoperative testing clinic for lab work and/or an EKG prior to your surgical date.
On the day of surgery, you will check in at registration and then be taken to the designated preoperative area. Your family members will be able to accompany you until your procedure. Nursing staff will review your history, confirm medications and allergies, and have you change into a surgical gown. An IV will be placed to allow us to administer medications and fluids. You will meet your anesthesiologist and see the surgeon to confirm the plan. The surgeon will often place markings on the breast for intended incision placement. You will then meet the operating room nurse.
Once you have had a chance to meet the entire team, you will go to the operating room. You will notice that the OR is much cooler than surrounding areas of the hospital and has bright lights overhead. Once in the room, you will be positioned on the operating room table, and staff will place EKG leads, an oxygen monitor and blood pressure cuff. Most patients will have devices around the calves that connect to a machine that will circulate blood to reduce the risk of blood clots.
Once you are connected to the monitor, you will breathe oxygen from a mask as medications are given to make you sleepy. Some cases are done with a "twilight" anesthesia, and others are performed under general anesthesia with a breathing tube. Next thing you know, you will be waking up in the recovery room. The nurses in the recovery room will keep you comfortable until you are awake enough to go home.
Lumpectomy or partial mastectomy recovery
With a lumpectomy or partial mastectomy, you will have an incision on your breast. We make every effort to hide these scars in more cosmetically appealing places, such as underneath the breast, underneath the arm, or around the areola. Unfortunately, sometimes the area of concern is too close to the skin or difficult to access through these incisions. Incisions are closed with absorbable sutures, meaning the stitches do not need to be removed. Skin glue is then often applied to create a barrier so that you can shower the following day. Generally, you should avoid submerging the incision underwater (bath, pool or hot tub) for a few weeks. Incisions may initially appear raised, but they will soften over time.
We utilize local anesthetic during the procedure, and afterwards most patients only require over-the-counter pain medications for discomfort. A snug supportive bra is paramount in reducing the pull on your incision and breast tissue. You might want to purchase one prior to surgery to ensure you have a comfortable fit. If not, we will measure you before surgery and give you one – our option has a front closure, so you are not pulling a bra over your head or incisions.
Ice packs can help reduce swelling if used in the first 48 hours, and subsequently, heat can provide relief. Most patients can resume normal activities the following day. It may be best to avoid heavy lifting, pushing or pulling for a week or two, as well as activities with higher impact, such as running or jogging. Patients should avoid driving and operating heavy machinery or making life-altering decisions for 24 hours after anesthesia.
The surgery team will call you 48 hours after surgery to check on you. Surgical pathology will take approximately five business days to provide results and will show up in your MyChart before your surgeon is notified. Your surgeon will call you within the next few days after they have reviewed your result and had any necessary discussions with your care team. You will then see your surgeon approximately two weeks after surgery to review pathology, check on healing, and coordinate follow-up appointments.
You will have contact numbers for the office, and after-hours call center, should you have any urgent questions or concerns.