This post was written by Courtney Leach, Digital/Social Media Manager.
Three piercing tones.
Three successive, piercing tones trigger a controlled, though rapid, response perfected by the seasoned three-person crew of Samaritan 1. On a sunny Saturday in late June, this meant verifying the safety of those on the ground, securing equipment, running through the proper checks, and making a swift, dramatic departure from the outfield of the local ball diamond where, just minutes before, the team had been casually taking pictures and shaking hands. "Four souls on board," the pilot radioed in as we reached the space just below the clouds.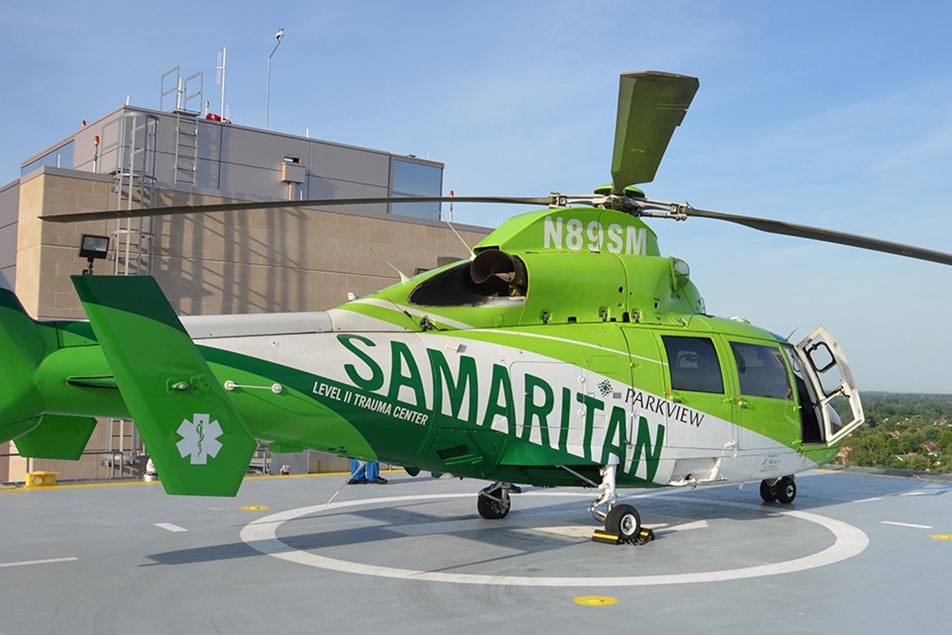 This dance is a dance the rotating crew of the Parkview Samaritan has performed more than 23,240 times over the last 25 years. Each responder moves to their own rhythm, with their own rituals, but all of them are motivated by the same objective: To save lives.
I was fortunate enough to shadow two different crews, on two separate days, to capture a glimpse into their routine (which is anything but routine in nature).
My main point of contact was Matthew Braun, a flight medic who's been with Samaritan for 5 years. He escorted me straight to the helipad for training. When we reached the top, I stepped through the sliding doors and out into the 8 a.m. glow of a city still waking up. I involuntarily gasped, jerking my camera lens to my eye in an attempt to capture the light-golden landscape. "Do you ever get used to this view?" I asked. "It's pretty, isn't it?" he responded. (At some point during the two days, I asked every single crew member this same question.)
The Samaritan program at Parkview began in 1989 and grew when the healthcare system added Samaritan 2, based out of Rochester, in 1999. A pilot, air medic and air nurse make up the crew for each flight. Both the air nurse and air medic can perform an impressive number of procedures and the combination of specialities has proven successful flight after flight.
Our air nurse for the day, Bob Pequignot, RN, joined us on the helipad. We spent about an hour running through proper safety procedures, how to exit and enter the aircraft, different patient scenarios and radio functionality. Each helicopter is an impressive mobile care unit, with ventilators and the necessary equipment to treat the most severe cases.
The Samaritans are nearly identical Dauphine (Dolphin) models, each weighing 8,000 pounds and capable of carrying up to 9,400 pounds, which means they're typically able to transport two patients at a time. Two is indeed the magic number for Samaritan, as each features a set of the most important components – engines, generators and oxygen – providing the safety net of a backup in potentially perilous situations. "Each engine has over 700 horsepower," Brad Wilson, pilot, said. "I could literally cut one and you would never know." The rotors, each boasting a 20,000-mile lifespan, are made of carbon fiber, which makes them incredibly light and able to turn at an impressive 350 RPM. Contrary to belief, these blades are actually more dangerous the slower they're going. The helicopters undergo routine maintenance and each get a thorough examination by the staff mechanics twice a day.
The helicopter flies, on average about 180 mph, but can reach 200+ mph if the wind isn't strong. Flight time for Samaritan from PRMC to Indianapolis is 42 minutes. "They don't always call us because we're special. They call us because we're fast." Bob said.
Next up, exploring the 100'x100' helipad. The platform is equipped with LED lights, extinguishing foam shooters in case of fire, and tethering apparatus should severe weather pop up unexpectedly. When the Indiana skies prove too threatening, Samaritan is moved to the hangar at the DeKalb County Airport and all flights are done at the pilot and crew members' discretion. "The helipad is heated, but we typically don't fly in sticky weather," Brad said. "That includes freezing rain and freezing fog." Samaritan is typically moved to the hangar semi-permanently in mid-December, where it stays through the winter months.
After learning about the bells and whistles, it was time for the crew to tackle some charting, a task that consumes the majority of their time on the ground. They typically round on patients they transport for 3 days following their arrival. As they settled in behind their computers, three successive piercing tones came over the radio. My stomach dropped to my toes. The Samaritan 1 team was moved to "Red Status", which meant that Samaritan 2 was out on a long run, leaving its counterpart responsible for their territory in addition to the PRMC team's usual region. (Each helicopter covers a 100-mile radius.) We headed down to grab a quick bite, anticipating we'd hear those tones again any minute.
But the tones never came. This would ultimately be an illustration of what a day looks like when the wheels never lift off of the Parkview helipad. It's rare, but it certainly happens. "You know, there's no rhyme or reason," Matt said. "Some of the worst scenes I've been to were on clear blue days on straight sections of highway." The winter brings more health episodes – heart attacks, strokes, falls – and the summer days bring lake incidents and more deer-vehicle collisions at dusk. "And there are so many texting and driving scenes," he added .
The minutes spent grounded on the 8th floor had their merit, too. In an effort to divert my palpable anticipation, we filled a good portion of the afternoon's 4 hours with stories of saved lives and haunting scenes. They were sensitive to my nonclinical ears and respectful to their patients, but I found myself enthralled in their tales of dramatic rescues and emotional connections. After all, they aren't just transporting people. They are often the difference between too little time and arriving just in time.
Such a brave job brings with it a form of celebrity, to some degree. Their signature lapis blue jumpsuits with reflective stripping make the crew members easy to spot in the cafeteria or passing in the hallway, a fact that Bob counted as a blessing and an occasional burden. "It can be tough sometimes, you know," he said. "If we've just come back from a tough run. People don't know that and we don't want to put that on anyone, but it can be challenging."
The team is always happy to bring the bird down to mingle with members of the community, often appearing – as they did on the Saturday I returned for a second ride along – at as many as three public events in one day. Joining Matt, Jennifer Esslinger, RN, air nurse, and Andrew Lytel, pilot, I was guaranteed airtime this go-around. Just before 8 a.m., before most had savored their morning coffee, my much-anticipated lift off was just as they'd told me it would be; Like riding an elevator. Straight up and then out.
While those in the area are familiar with the military-style sound of the rear rotor cutting through the sky, the sound inside the helicopter is a relentless roar paired with a constant (and completely normal) vibration. Matt sits in the front when there aren't any patients, offering an extra set of eyes to scout for common hazards like trees, drones, airplanes and migratory birds. But I was busy drinking in the scenery. Seeing the city and its neighbors from a bird's eye view, with streets snaking through patches of forest, checkerboard crops and inkblot lakes, is a humbling and awe-inspiring perspective.
We landed at our first event and I stood back as the team went to work warmly greeting and educating attendees. A somewhat common and especially moving perk of making these appearances is the opportunity to reconnect with past passengers, as well as their friends and family. On this particular morning, a young woman who'd ridden in Samaritan after a serious car accident expressed interest in tracking down a few retired crew members to extend her gratitude. Appreciation isn't a foreign expression for the emergency responders. In fact the door in the crew's office is peppered with notes of thanks.
At public events, they encourage people to peek inside the helicopter, take pictures and grab a tattoo or coloring page, but also be mindful of what they touch. "Some of this equipment looks so simple, but it costs thousands of dollars to replace." Andy said. Just as he finished his thought and a pair of visitors turned to leave, there they were. Those three piercing tones. We were dispatched to Rochester to pick up a patient, since Samaritan 2 was still out on a call.
I quickly jumped into my seat, buckled my harness, put on my noise-cancelling helmet, plugged in my Carter box (radio) and watched nervously. Jenny began her pre-patient ritual, methodically tearing strips of medical tape from its roll and adhering them to her pant leg. She surveyed her equipment before fixing her stare meditatively out the side window. Pen in hand she awaited patient information. When it came in over the radio she jotted down the notes on the tape and began a dialogue with her partner, Matt. Such details are a luxury the nurse and medic don't get when dispatched by first responders to a scene. In those instances, the team might only know where they are landing. Limiting the amount of information helps the responders avoid emotional distractions and assess the situation in real time as soon as their feet hit the ground.
A local ambulance was en route to the Rochester airport. As we waited on their arrival, Samaritan 2 returned home from their flight. The crew from the other aircraft walked over and instinctively assisted in loading our patient. I moved to the front seat so Matt could work with Jenny and tried desperately not to touch anything. The windows in the front of the helicopter come all the way to the floor, which provides a view that's both unsettling and thrilling from 3,500 feet in the air.
Andy masterfully explained every gauge and switch and radar with an ease that only comes with years of experience. We flew the patient back to Parkview Regional Medical Center, where team members were waiting to take the gentleman to the proper area of the hospital for treatment. I waited on the rooftop with Andy as he worked quickly to refuel. The fueling system runs from the ground level up to the 9th floor, making it convenient to maintain adequate gas levels for the aircraft on busy days. When necessary, the team can turn over the helicopter in as little as 15 minutes.
By the time Matt and Jenny returned to the roof, we were due for the next public appearance. We approached our designated landing spot and began the steep decline onto the outfield of a local ball diamond, a crowd of onlookers smiling wide as we descended. I peered out, noting how the trees and goodie bags clutched in the hands of the small festival goers bowed and whipped at the mercy of the rotors' vicious revelations. Once it was safe, a rush of excited little ones and their equally curious parents, flooded the exterior of the helicopter. The crew each manned a zone, graciously exchanging stories and information. I furiously snapped photos of the happy children with painted faces and bright balloons against the signature Parkview green paintwork. It was a warm June morning, the sun was shining and all was well. And then, those three successive piercing tones.
By now I was more confident maneuvering into my position. We were bound for Coldwater, Michigan, and the pockets of heat above the highway were generating more turbulence than earlier in the day. I was starting to feel the effects of the morning's ups and downs. We made it to the hospital and moved in quickly to transport the patient. As someone who doesn't interact with patients on a regular basis, I am always surprised by the compassion our caregivers demonstrate in the face of others' pain and despair. Even as they moved with a necessary immediacy, each crew member made such deliberate sympathetic and comforting gestures; to the patient, to her family, to her previous caregivers. They spoke honestly but softly, they placed their hands on the husband's shoulder and they explained each step of care as they performed it and as they planned for what would come next. They eased the fears they could and respected the ones they could not.
As I climbed into the front of the Samaritan for what would be the final flight of my ride along experience, I felt a different sort of respect for the men and women in the blue jumpsuits, the ones who spend their days dwelling just below the clouds. I'd spent hours observing their humor, their courage, their focus, their heart, their adaptability and their grit. But I could have guessed they'd carry at least some of those characteristics before I ever joined them on the roof. What I didn't predict was their connection. There's a unique bond that comes with seeing the things these crew members see and coming back to do it all over again 12 hours later. I asked Matt if there were services available if crew members needed someone to talk to after a particularly grueling call, and of course the answer was, "Yes," but also, "But we really lean on each other the most."
I mean, it makes sense. They have near losses and fight hard battles and walk into tense, spirit-breaking scenarios nearly every single day. And no one can understand those nuances and peaks and valleys like the person who shares the shift. No one can empathize or help or counsel like someone who's also lived it. They are a special band of colleagues who go into the trenches fueled by their courageous spirit, controlled adrenaline and a shared goal: To save lives when they hear those three piercing tones.